After a long walk in the New Forest, what better way to replenish those lost calories than to visit one of the many great New Forest pubs that can be found throughout the area! There are plenty to choose from, and range from tiny cottage size independent pubs serving home cooked food, to large family-oriented chains.
Listed below, in no particular order, is a small selection of quality New Forest pubs definitely worthy of a visit.
There are many more pubs dotted around the Forest but those shown below are just a few of my personal favourites. No offence to any pub owner who's fine hostelry isn't on this page!
For a true taste of the New Forest, the Wadworth's owned Red Shoot Inn at Linwood, a couple of miles west of Stoney Cross, has an in-pub brewery visible through a glass window. Forest flavoured ales are brewed – Tom's Tipple, Forest Gold and Muddy Boot being popular choices at the bar. A very popular pub, great food and a campsite behind.
The Shoot is also well known for it's annual beer festival – ask at the pub for details.
Tel: 01425 475792
OS grid ref / GPS: SU187094 / 50.883495N, 1.73511W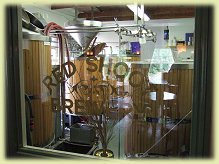 In the same neck of the woods (pardon the pun…) is the High Corner Inn, again very popular at weekends. Also a hotel, it's located at the end of a gravel track with plenty of good walking opportunities in the immediate vicinity. A good size garden and kiddies playground make it popular with families.
Tel: 01425 473973
OS grid ref / GPS: SU200108 / 50.895904N, 1.721361W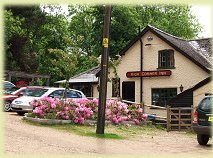 The Royal Oak at Fritham is one of the New Forest's smallest, and most popular, pubs. Accessible from Stoney Cross, the pub is close to a very popular walk and way-marked cycle tracks, and makes an ideal lunch stop. The large garden makes an ideal place for a pint.
Tel: 02380 812606
OS grid ref / GPS: SU232142 / 50.92619N, 1.671094W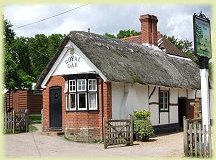 The Sir Walter Tyrell at Brook is close to the Rufus Stone. Access from Cadnam and Brook or from the eastbound A31 at the Rufus Stone turnoff. Camping is available in fields adjacent to the pub during the summer season. Good food here!
Tel: 02380 813170
OS grid ref / GPS: SU271126 / 50.913133N, 1.619091W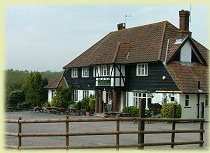 The Trusty Servant at Minstead overlooks the picturesque village green of one of the New Forest's most rural hamlets. It's a bit out of the way, but definitely worth dropping in on if you're in the area.
Tel: 02380 812137
OS grid ref / GPS: SU280141 / 50.898009N, 1.601214W
The Sir John Barleycorn at Cadnam, sits immediately below the M27 motorway, and is one of the area's oldest pubs dating back to the 12th century.
Actually, and I hate to say it, but this is a good example of what not to do with a New Forest pub – my last visit there lasted about 10 seconds, I walked in and came straight out again when I saw that the cosy pub that once was had been turned in to a trendy wine-bar type place (maybe I'm just showing my age…).
Great shame, but it still gets a mention because it looks nice from the outside…
Cadnam is a major gateway to many areas of the New Forest, more 'pubby' pubs in Cadnam are the White Hart and Coach and Horses.
Please note that I haven't visited the Barleycorn since writing this page, so it might have changed back again. I'll check it out and update this page when I get a chance!
Tel: 02380 812236
OS grid ref / GPS: SU293137 / 50.921064N, 1.586741W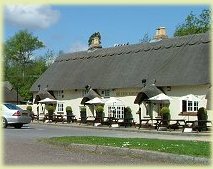 Above is just a tiny selection of some of the more popular New Forest pubs, but wherever you are in the New Forest National Park you can be sure of finding a good pub in and around every village of the area.