The picturesque Beaulieu village sits on the southern bank of the Beaulieu River, at the head of the tidal section of the river.
It's one of the New Forest's smallest but busiest villages, and is home to the National Park's most popular attraction, the National Motor Museum, Palace House and Beaulieu Abbey. Collectively this trio is just called Beaulieu.
Beaulieu village is little more than a single street of red brick houses, some tiny boutiques and village shops, and the Montagu Arms Hotel and pub, but its charm attracts many visitors.
New Forest ponies and donkeys are free to wander throughout the centre. While donkeys aren't as common as ponies throughout the New Forest, they can often be seen in Beaulieu village and make a great photo opportunity!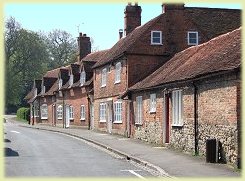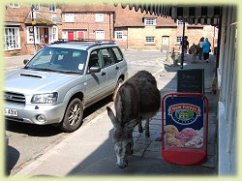 There are no cattle grids on this street
At the head of the river is the Mill Pond, creating a picture-postcard village scene, while on the opposite side of the pond from the village you will see Palace House, present home of Lord and Lady Montagu.
Behind the house are the remains of the once enormous Beaulieu Abbey, while the world famous National Motor Museum is hidden from view from the village.
At the western edge of the village, motor enthusiasts can have a browse through the showroom windows of the privately owned Beaulieu Garage, which always has a fine display of vintage and classic cars on sale. For those wishing to relax, some lush natural grassy lawns can be found on the northern bank of the river, in front of the Palace House grounds.
Beaulieu has a rich history and the village falls under some of the Beaulieu Estate. Its origins date back to soon after the New Forest area was designated a royal hunting ground, and the first known building was a single hunting lodge used by King John. The building of the abbey commenced in 1204, on the site of the lodge.
Palace House was once the gatehouse to the abbey, which itself was destroyed during the Dissolution of the Monasteries by King Henry VIII in the 16th century.
Getting to Beaulieu village
Beaulieu is accessible from several different directions; the A326 runs down the eastern border of the New Forest National Park, from Southampton, and you can cut in to Beaulieu from the Dibden Purlieu roundabout. Access from Lyndhurst is on the B3056 which begins at the north-eastern corner of Lyndhurst town, at Bolton's Bench.
From Brockenhurst take the B3055 which starts at the Balmer Lawn Hotel and runs straight into Beaulieu, and if approaching from Lymington take the B3054, which joins the B3055 at Hatchet Pond.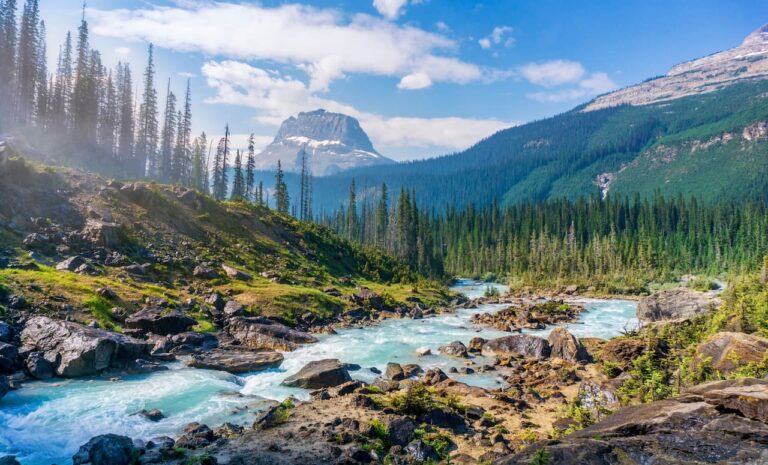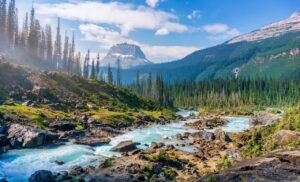 Preserving Cultural Treasures at National Parks: 8 Examples Around the World National Parks are something beyond just lush landscapes and sprawling wilderness. They serve as open-air museums spread across countries, preserving eons of cultural heritage. 
Read More »