You can enjoy some great New Forest cycling on over one hundred miles of way-marked cycle routes, and without doubt it's one of the best ways to see and experience the New Forest.
Whether you're cycling on the routes through the Ancient and Ornamental Woodlands or across open heathland with superb views, you'll be taking in the unique atmosphere and fresh air of the Forest. Of course, in addition to the way-marked off-road routes there are several hundred miles of sheltered country roads, the combination of both surfaces making ideal all-round cycling territory!

Above, two different way-marked cycle routes for some great New Forest cycling.
Left, Deerleap, right, Beaulieu Heath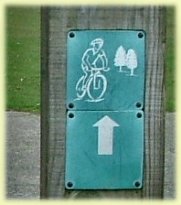 Certain Forestry Commission gravel tracks were designated as way-marked cycle routes in the late 1990s, as a result of rising concerns over erosion to the Open Forest because of a big increase in New Forest cycling. The concern was that off road cycling (mountain biking) would damage the ground if cyclists were permitted to have complete freedom, as for walkers and horse riders, over the Open Forest.
These routes are usually designated by a green sign, as pictured right.
But despite this restriction of freedom (the maximum penalty for cycling off the way-marked routes is £500!), New Forest cycling is enjoyed by thousands of visitors to the National Park each year and the way-marked cycle routes don't really limit the access to the most popular areas of the Forest, the campsites or many of the great pubs – essential for any cycle ride!
The cycle routes throughout the New Forest are spread around some of the most interesting and popular spots.
For your convenience, the Forestry Commission has made a New Forest cycling map available. It is in PDF format and you can get it by clicking the image below (© Forestry Commission), then printing it off.
Click here to download the cycle code PDF.
To see the cycling routes we have marked out, please click here.
The following Cycle Code has been put into place by the Forestry Commission, and should be adhered to by all cyclists on the New Forest, at all times…
Keep to the Way Marked tracks when cycling in the New Forest.
Slow down and call out a warning when approaching other Forest users. Be courteous and friendly.
Take extra care when nearing horse riders. When in a group, all cyclists should pass the horse on the same side.
Do not startle ponies, cattle or other wildlife. Go slowly and give them space.
Avoid causing obstructions – do not ride more than two abreast. Always ride in single file on narrow roads.
Keep well away from any work going on in the Forest.
Do not pass any vehicle loading timber until you have been told it is safe to do so.
Use the map and plan to be out of the Forest by dusk.