Liberty's Raptor and Reptile Centre
Liberty's Raptor and Reptile Centre is located just outside of the New Forest National Park boundary, on the western side very close to the popular market town of Ringwood.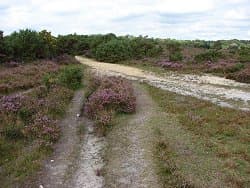 The centre is named after one of its biggest raptors, Liberty the American bald eagle (above, left). Liberty is kept company by a large collection of other birds of prey (raptors) and owls from all over the world.
While the birds are the main attraction, Liberty's Raptor and Reptile Centre - as the name suggests - is also home to a collection of reptiles, giant tortoises and more impressive still, a pair of giant rabbits!
The reptiles are to be found indoors and include boa constrictors and iguanas, as well as a small collection of creepy crawlies like scorpions and spiders.
Although not particularly large, Liberty's Raptor and Reptile Centre puts on several talks and flying displays each day, spread throughout the day, so your visit will more than likely take in one of these at some point.
The flying displays are impressive if you've never seen one before, and demonstrate the amazing hunting abilities of certain birds of prey. In fact, falconry, as the skill is known, is a tradition that dates back many centuries in the New Forest, to the time when the area was a royal hunting ground.
In addition to the standard falconry displays, the centre also offers full day 'Flying Experience Days' where you can try the skill first hand. This is a great opportunity for anyone interested in learning to fly birds of prey and owls.
While the majority of the birds at Liberty's are caged, many of the raptors are perched on tree stumps in an open-air grassed area. These are the birds that are regularly flown at the flying field, and they are not at all phased by being on such open display.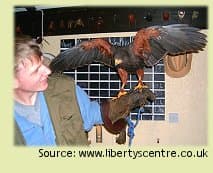 A visit to Liberty's Raptor and Reptile Centre would last around an hour or so if you didn't stay to see any of the displays, but these are well worth waiting for.
But if you have timed it badly, the on site cafe is always there offering a good reason to wait for the next show, or you can browse the well stocked gift shop at the centre entrance.
---
Liberty's Raptor and Reptile Centre Visitor Information
Opening times:
10am - 5pm March to October
10am - 4pm Weekends only from November-February
Admission prices:
Adults £8.95
Children 5-15yrs £5.95
Family (2+2) £27.50
Senior citizens £7.95
Location: Crow Lane, Ringwood.
Telephone: 01425 476487
Website: www.libertyscentre.co.uk
Liberty's Raptor and Reptile Centre location map
GPS / SatNav information:
Lat/long: 50.836,-1.771. OS grid ref: SU162042