Safety on the New Forest roads
Driving safely on New Forest roads is of paramount importance - there aren't many areas in Britain where free-roaming ponies, cattle, pigs and deer can appear in front of your bonnet without any warning!

Above, ponies and other animals mix freely with traffic on New Forest roads
Statistically, and unsurprisingly, animals deaths on New Forest roads have always been high when compared to other areas of the country.
Although the major roads through the New Forest, ie the A31, A35 and A337, are fenced there are many unfenced minor roads and along such roads animals of all kinds are free to wander into the path of oncoming traffic.
Over the years, various speed restriction methods have been tried and tested throughout the New Forest, such as narrowing sections of road with the appropriate 'Priority to oncoming traffic' signs, speed humps at accident blackspots and 'chicane' type speed reducers (the latter having the opposite effect as intended, as local 'boy racers' competed to see how fast such obstacles could be taken...).
While such experiments did initially bring down the number of animal accidents, driver complacency soon returned along with the associated increase in collisions with animals being recorded.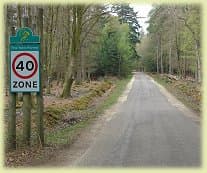 In 1990 a uniform 40 mph speed limit was put in place on all New Forest roads, apart from the fenced major A-roads. This has had the most significant effect on reducing animal deaths, with annual accident statistics being slashed compared to pre-40 mph limit years.
But, as before, driver complacency has slowly crept back and although animal deaths stay significantly lower than before, the numbers are rising once again as drivers ignore a speed limit that isn't so easy to police throughout the whole of the New Forest.
Tips for safe driving on New Forest roads
Common sense should prevail when driving anywhere in the New Forest. Driver awareness is imperative, and obeying the 40mph speed limit will greatly reduce any damage in the unfortunate case of having a collision with a Forest animal.
Keeping a keen eye on the road ahead is the thing to do, but not just on the road itself - scan each roadside well as you drive, especially on tree-lined stretches of road.
It's true that deer can run out from anywhere without warning, but New Forest ponies and cattle rarely bolt at the sign of an approaching vehicle. They can however appear in the road at any moment, be beyond a hump, in a dip or on the other side of a bend.
For these reasons, always keep in mind that there may be loose animals on the road ahead - an animal the size of a New Forest pony or deer will do a lot of damage to a vehicle and its occupants, even at 40mph!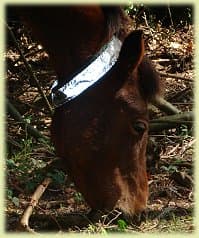 At night, the situation is obviously made a lot worse. Most New Forest roads are unlit and there are many dark-coloured animals wandering about.
A worthwhile invention is the reflective neck collar for New Forest ponies, but only a small percentage of ponies have been fitted with them. But although the reflective collars greatly improve the visibility of the animal at night, the collar can easily get hidden by the pony's head if the animal isn't side-on to the approaching vehicle.
The photo to the left shows the effectiveness of the collars, this one very obvious in the flash of the camera, but they are equally as bright in car headlights.
If you have an accident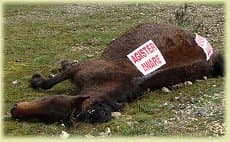 If you are unfortunate enough to collide with an animal on a New Forest road, you must contact the police as quickly as possible.
All ponies, cattle and pigs in the New Forest are privately owned and it's your responsibility to make sure that the authorities are informed of the accident, so that the owner can be contacted. More often than not, a seriously injured animal will have to be destroyed at the scene if it wasn't killed outright.
Useful telephone numbers to put in your mobile:
Police - 0845 045 45 45 (central number, ask to be put through to the nearest station)
Forestry Commission - 02380 283141