New Forest Reptile Centre
The New Forest Reptile Centre is to be found at Holidays Hill, approximately 2 miles west of Lyndhurst on the A35 road.
It's a small but very worthy attraction and conservation centre where you can (potentially...) see all of Britain's reptiles in one place; adders, grass snakes, smooth snakes, lizards, frogs and toads are displayed in separate open air netted pens, with all reptiles living in their natural environment.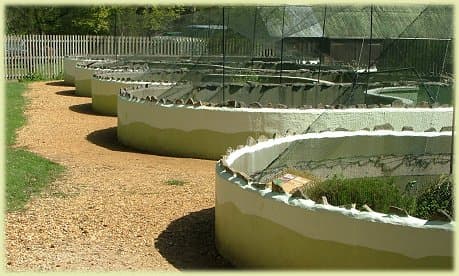 Although the reptiles are limited to where they can go, there is still plenty of natural cover in each pen for them to disappear from view, especially on busy days! So the best chance of seeing the most reptiles is on a warm sunny day, when they will be basking in the sunshine to warm their blood. And visiting the Reptile Centre on a quiet weekday is preferable to a busy weekend.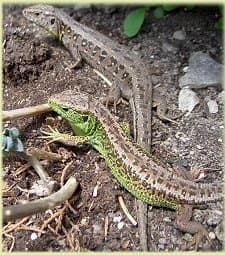 Two of the species found at the New Forest Reptile Centre are two of Britain's rarest animal species - the smooth snake and sand lizard. These are small in number throughout the UK, although sand lizard numbers are increasing - after being very close to extinction - thanks to successful breed-and-release programmes across the country (including by the New Forest Reptile Centre).
The smooth snake is Britain's rarest and most elusive snake, similar in size and appearance to the adder, Britain's only venomous reptile. Both smooth snakes and sand lizards inhabit the open heathlands of the New Forest.
As well as the snakes and lizards, the New Forest Reptile Centre is also home to common frogs, Natterjack toads, 3 species of newt and slow worms.
Away from the reptile pens there is a grassy picnic area and a 1 1/2 mile walk, aptly named The Reptile Trail, through the Ancient and Ornamental Woodland of the area - keep your eyes peeled, and you might just see some wild reptiles along the walk!
There is also a short way-marked cycle route that connects the reptile centre to the Emery Down-Bolderwood road.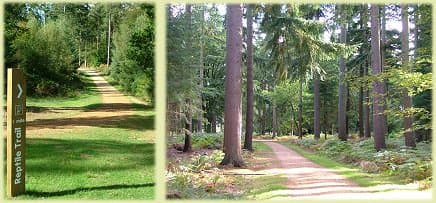 Above, the Reptile Trail is a nice graded walk at the Centre
Getting to the New Forest Reptile Centre
The New Forest Reptile Centre is 2 miles west of Lyndhurst on the A35 (Christchurch) road. There is a gravel lay-by opposite the entrance at Holidays Hill, but it's a better idea to drive up the track to the centre. There's no admission charge, but standard 'Pay and Display' car park charges do apply.
GPS / SatNav information:
Lat/long: 50.863,-1.617. OS grid ref: SU269072


Explore the New Forest Reptile Centre using satellite imagery.
Related pages
Adder fact file.
Grass snake fact file.
Smooth snake fact file.
Sand lizard fact file.
Lyndhurst.