Ibsley airfield
[OS grid ref: 1508]
Ibsley is located on the very western edge of the New Forest National Park, midway between Fordingbridge and Ringwood.
It played an important role in the war and was a major base for Spitfire and Typhoon fighters. Today, Ibsley is a water based nature reserve managed by Southern Water and although none of the airfield remains, the control tower does, albeit in a state of disrepair*.
Away from the airfield site on a tree-covered hill the remains of Battle Headquarters can still be found, a stark reminder of the area's wartime history.
Ibsley can also boast a movie-making credit - in 1942 the film First of the Few, starring David Niven, was shot on location at the airfield while it was in service. Now a wartime classic, the film follows the story of the legendary Spitfire, its development and its heroic pilots.
| | |
| --- | --- |
| The control tower | Battle headquarters |
| The airfield memorial | Overlooking what was the airfield |
*There has been word of the control tower at Ibsley getting renovated, but whether this happens or not remains to be seen. It would be a great memorial if so. The website of the RAF Ibsley Historic Group is the place to watch for any developments there.
While airfields such as Ibsley have their own memorial plaques, a much larger wartime memorial dedicated to all the servicemen and women (from home and abroad) of the New Forest airfields was uncovered at Holmsley airfield in August 2002: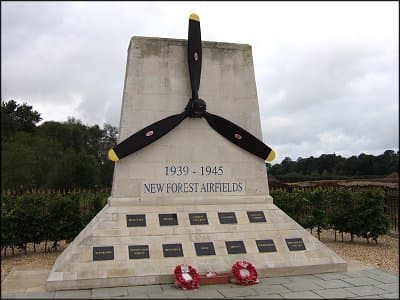 This memorial is to be found at the western end of Holmsley South airfield, now Holmsley campsite, just off the main A35 Lyndhurst-Christchurch road. The OS grid reference for the memorial is SU212989.
Related pages, resources & references

Stoney Cross Airfield.

Beaulieu Airfield.

Ashley Range.

New Forest wartime history.
RAF Ibsley Historic Group
Friends Of The New Forest Airfields
The New Forest at War
book.