[The walking suggestions in this web site are merely to show you some nice, fairly short walks within the New Forest National Park, so you can enjoy the Forest at its best. The walks have been completed by me, and follow used walking tracks.
Disclaimer: I cannot and do not take responsibility for you getting lost, bogged down, chased by a pony or suffering any other unfortunate incident or accident while using material from my website!]
Milkham Inclosure walk takes you through some typical Forestry Commission managed pine inclosure, across the open lawn of King's Garden and then across some typical New Forest heathland. There is no Ancient and Ornamental Woodland on this walk.
It's a popular walk and can get busy. The Red Shoot Inn can be reached by taking the track through Roe Inclosure (point 'D' on the map excerpt), it's about a mile each way.
Car park location:
OS ref: SU216102 – GPS lat/long: 50.891,-1.692
Approximate distance of Milkham Inclosure walk:
two and a half miles.
Allow (time):
an hour and a half.
Nearest pub/s:
the High Corner Inn & Red Shoot Inn, both at Linwood a mile or so away.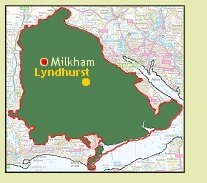 Important update: Regrettably the OS map excerpt previously shown for this walk can no longer be used on this website. The walk is doable without it, by following the directions and photos outlined below, but please take extra care. If you don't feel confident about trying the walk without the map excerpt, please don't!
You can buy our offline map by clicking here or the Pocket Guide Image.
I put together a handy downloadable pocket guide ebook containing all of the walks from this website plus many pages of fascinating facts, essential local tips and useful information regarding the New Forest. All of which is available for download in a completely ad free, mobile friendly format. Suitable for use in all smartphones, tablets and kindles etc. Save some ink and the hassle of printing by downloading the New Forest National Park Pocket Guide right here, the only one of it's kind and found no where else!
From the main car park, enter the enclosure through the main 5-bar wooden gate. Follow the gravel road, ignoring any crossroads. The road will bear left and go downhill slightly, ignore the track that lies immediately in front of you at this point. Just stick to the main gravel road.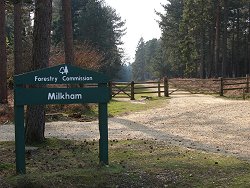 After about 3/4 of a mile, you'll come to a second 5-bar wooden gate. Go through here and turn immediately left, so you're facing down a grassy ride inclosed on both sides by pine trees.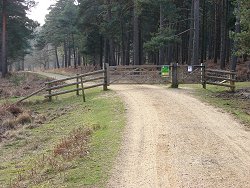 Walk down this grass ride and up the other side to another 5-bar wooden gate. Beware: this grassy ride can be extremely boggy after rain, you might need to hop across onto the ditch bank on the left to pass the mud!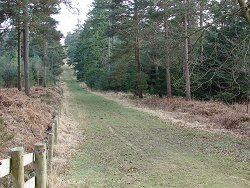 Go through this gate and follow the track through the heather. The track becomes narrow and sandy, but it is definite. You're now on King's Garden, and there are often fallow deer grazing the grass on your left.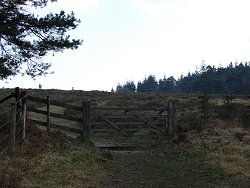 The small track that you're now following over the grass meets up with a main gravel Forestry Commission road, and there is a 5-bar wooden gate into Roe Inclosure, on the right. Don't go through, instead turn left and start walking along the main track, so the gate and inclosure is behind you.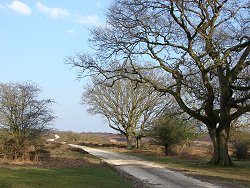 Follow the track for about half a mile, it takes you across open heathland. The busy A31 road is not far to your right. Looking over to your left you'll see the pine trees of Milkham Inclosure that you've just walked through.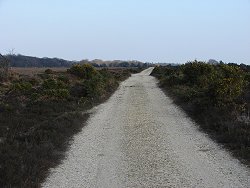 After about half a mile on this track you'll come to a small crossroads. There is a cycle route post on the left. Turn left here, onto the grassy/gravely track that cuts through the heath. Or… to add a mile or so to the walk, keep following the main gravel track, straight on. If you take this 2nd option, continue until the sharp bend close to the Ancient & Ornamental Woodland Enclosure entrance. At the bend, take the grass ride ahead of you and follow this to the road, then back to the car park.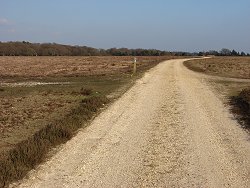 If following the shorter walk, just follow the track through the heath, you are now walking parallel to Milkham Inclosure. After a couple of hundred meters there is a small pond (a typical New Forest animal watering hole) on the left. It's a very short way off the track that you're on, and these small ponds are good for attracting small amounts of wildlife.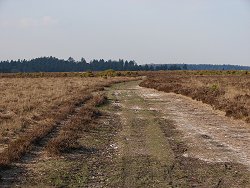 Keep following the track and walk until you come roughly in line with the front end of Milkham Inclosure, on the left. Somewhere around here is a small track off to the left, it's not always obvious. Take this and it will lead you back to the car park.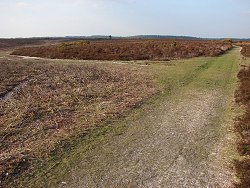 From this small track you'll be able to see the car park straight ahead. There's an area of wetland about halfway along, but it's bridged with gravel. Arrive back at the car park, and go to a pub!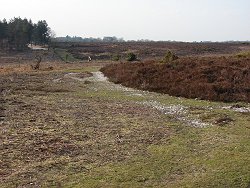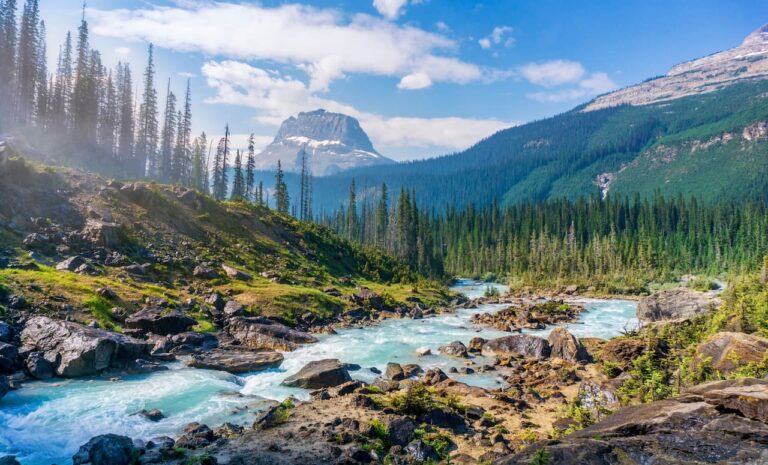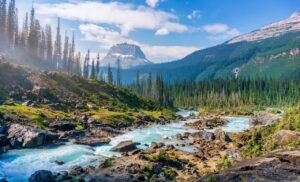 Preserving Cultural Treasures at National Parks: 8 Examples Around the World National Parks are something beyond just lush landscapes and sprawling wilderness. They serve as open-air museums spread across countries, preserving eons of cultural heritage. 
Read More »