New Forest leisure activities
Not surprisingly, New Forest leisure activities are geared towards enjoying the outdoor delights of the area. The most popular activities enjoyed by locals and visitors alike are cycling, walking and horse riding.
Cycling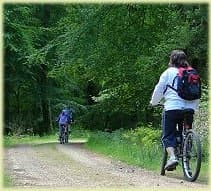 Of all the New Forest activities, off road cycling has become the most popular in recent years and has forced the Forestry Commission to create official cycle routes in order to help protect the Open Forest.
There are many way-marked cycle routes throughout the New Forest, adding up to over a hundred miles of cycling pleasure. And because the area is primarily low lying land, there are few severe gradients to tackle - and a good pub is never far away!
Seeing the New Forest by bike is without doubt one of the most pleasant ways of doing it. All the way-marked routes take in great views and link popular villages and places of interest.
The New Forest Cycle Code has been put into place and should be adhered to, although common sense and responsible cycling will naturally cover the basic guidelines.
More information on New Forest cycling.
Walking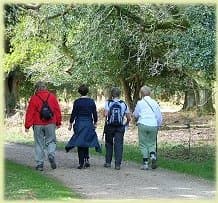 The sheer openness of the New Forest makes walking (dog-walking and hiking) a hugely popular leisure activity and there are few restrictions on where you can go, as there are for cyclists.
Dog walkers can enjoy unprecedented freedom, a privilege that is hard to find elsewhere. The New Forest Dog Walking Code lays out some common-sense guidelines, but all responsible dog owners would find these to be normal behaviour.
Early morning weekday walkers are more likely to be rewarded with deer sightings, as these shy animals normally retreat further into the woodland for cover as more people appear throughout the daytime.
The beauty of walking in the New Forest is that you can go where you like, making it very possible to track deer, or other animals, and see them in their natural environment.
Guided walks are an increasingly popular way of enjoying this particular leisure activity, and a great way to learn about the New Forest at the same time. Forestry Commission 'Rangers' are available to take groups on guided walks, details are available from the Forestry Commission at The Queen's House, Lyndhurst, Hampshire, SO43 7NH (telephone 02380 28 3141) or more information can be seen at http://www.forestry.gov.uk/england.
More information on New Forest walking.
Horse riding
Horse riding is the third most popular of the New Forest leisure activities.
Even if you're not a horse owner then you can still enjoy the delights of the Forest from horseback by spending a few hours at one of the local riding schools. If you're a complete novice, then pony trekking is a great way to experience the delights of the area in a more relaxed fashion. The New Forest ponies that are used for this are extremely docile and very used to nervous, first-time riders!
Like cycling and dog walking, the New Forest Horse Riding Code has been implemented to help conserve the Forest, and to promote safe and responsible riding throughout the area.
Horse riders are not restricted to way-marked routes like cyclists are and this is a big attraction to horse riders in the New Forest.
More information on New Forest horse riding.
Other New Forest leisure activities
Golf and fishing are two other activities enjoyed by many people throughout the New Forest and the rest of the National Park area.
Golf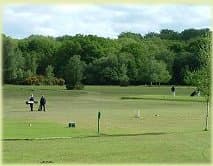 There are four major golf clubs within the New Forest itself, these are:
All of the golf courses are top quality and most have been created on Open Forest land, making a round a great way of not only enjoying this popular leisure activity but also of seeing the New Forest first hand.
Fishing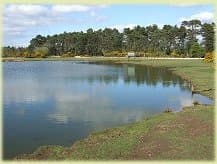 Freshwater fishing within the New Forest is divided between privately owned lakes and one Forestry Commission managed pond, Hatchet Pond near Beaulieu.
The open season for Hatchet Pond is from June 16th to March 14th, and the Environment Agency Rod License and a permit from the Forestry Commission are both required.
More permit information for fishing at Forestry Commission ponds.
In addition to the two Forestry Commission managed ponds, the are several privately owned lakes that offer excellent fishing opportunities. These include:
Radio Control (RC)
Sadly, Forest Commission byelaws prohibit the use of radio control models on the open New Forest. However, there are designated areas for rc flying and rc boating.
RC flying:
Radio control aircraft can be safely flown at Beaulieu Heath, where there is a large concrete area and frequency board.
The area is controlled by the Beaulieu Model Flying Committee on behalf of the Forestry Commission. Anyone wishing to fly at Beaulieu must be insured through the BMFA and have a permit (annual cost £5), available from Hobby Stores in Southampton, Mainly Planes & Trains in Chandlers Ford, or from the Beaulieu Model Flying Committee who can be contacted via the Southampton Model Aero Club website.

The rc flying area at Beaulieu Heath is part of what used to be the main runway of Beaulieu Airfield during the Second World War. You can see it in satellite view here; the rc flying area is obvious at the eastern end of the east-west runway line.
Incidentally, if you are interested in getting in to radio control flying, see my other website RC Airplane World and get my popular e-book, The Beginner's Guide To Flying RC Airplanes to get you started.
RC boating: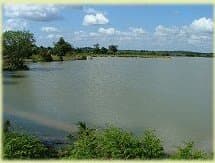 There are two ponds for radio control boating: Foxhills Pond can be found on Stoney Cross Plain, on the southern side of the A31 (opposite side to Stoney Cross airfield), and is used by Southampton Model Boat Club. Members of the public can use the pond whenever it is not in use by the club, but priority must be given to club members wishing to sail their model boats. Sunday morning is the main club boating session at the pond.
Setley Pond is located between Brockenhurst and Lymington, close to the hamlet of Battramsley. Solent Radio Control Model Boat Club have priority in use of the pond on club days, when a frequency board is used.
Indoor activities
Calshot Activity Centre is located right in the south-eastern corner of the New Forest National Park and offers a wide choice of both indoor and outdoor activities.
These include indoor track cycling, rock climbing, dry slope ski-ing, canoeing, windsurfing, yachting and much more. A multitude of course times and durations are available, see the Calshot website for exact details.
This page outlines the more popular New Forest leisure activities. Birdwatching, kite flying and orienteering are all enjoyed by many as well, showing that the New Forest National Park offers great opportunities to anyone who enjoys the outdoor life!
Related pages

New Forest attractions.

New Forest walking.

New Forest fishing.

New Forest cycling.

New Forest horse riding.