There are potentially countless New Forest walks for you to enjoy throughout the New Forest National Park, simply because there are very few restrictions on walking in the area.
Walking in the New Forest is an excellent way to enjoy the scenery and atmosphere of the Forest. As well as the seemingly endless Forestry Commission gravel tracks within the New Forest, there are also many grassy rides throughout the enclosures, and open heathland criss-crossed with sandy tracks, all perfectly suitable for walking on.
A multitude of car parks throughout the New Forest provide perfect starting and ending points of the majority of New Forest walks, and a good pub is never far away!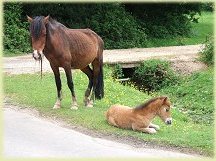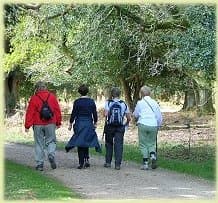 Below is a handful of tried and tested walks (by Yours Truly) within the New Forest. Each link takes you to a page that outlines that particular walk, and there is a printer-friendly version that you can print off and take to the New Forest with you.
The walks range from under an hour to over 2 hours in duration, and none are particularly gruelling! Because of the flat lie of the land throughout the National Park, there are few gradients to deal with. The biggest 'issue' is the bogginess of some areas, but this is all part of walking in the New Forest, I'm afraid!
The walks are…
…and here is a map of the New Forest National Park with each walk located in yellow, just to give you an idea of where the walks are…
The terrain in the New Forest isn't rough at all, so sturdy walking boots aren't really essential although something hardier than trainer-type shoes is preferable. By far the biggest issue to deal with on some walks are the areas of bog, and after periods of heavy or prolonged rain the New Forest can get very wet underfoot.
Obviously this isn't much of an issue if you stick to the gravel tracks, but walking across heathlands or on grassy rides increases the risk of encountering wet areas, and there's not always an easy way round!
Footwear aside, dark coloured and 'rustle-free' clothing is preferable, if you want to maximise your chances of seeing any wildlife, such as deer.
The New Forest isn't exactly what you'd call a 'high risk' environment for walkers and, apart from the boggy bits, there's not too much that can get you; there are no bears, wolves or black widow spiders here!
But adders are present in the area, particularly on the heather-covered heathlands although they are certainly not limited to this habitat.
Britain's only poisonous snake, the adder will run from you before you get a chance to run from it. Having said that, it is possible to surprise a basking adder that's not paying attention, and in such a situation a bite isn't completely out of the question, although highly unlikely.
There are around 100 adder bites in the whole of the UK annually and maybe half a dozen of those occur in the New Forest. Most of these are received when trying to "do a Steve Erwin". It's not a good idea to try this, and giving a stubborn or surprised adder a wide berth is by far your best bet.
While an adder encounter probably won't happen on your walk, it's very likely – in fact almost guaranteed – that you'll see New Forest ponies.
Although these appear to be wild animals, they are, in fact, all privately owned and are very used to humans. They won't run off if you approach them, but it's best to give them a wide berth anyway. Indeed, approaching any of the Commoner-owned animals on the Open Forest (ponies, cattle & pigs) is strongly discouraged, and feeding them is strictly prohibited.
If you're completely new to the area, carrying a map is a very good idea. While the New Forest isn't one of the world's vast areas of wilderness, it is possible to get lost and disoriented!
You'll never be too far away from help, and you certainly won't need to revive those rusty survival skills, but not seeing anyone for a few hours is possible, particularly on weekdays.
With the above points in mind, there's no reason why you shouldn't have a relaxing an enjoyable New Forest walking experience!